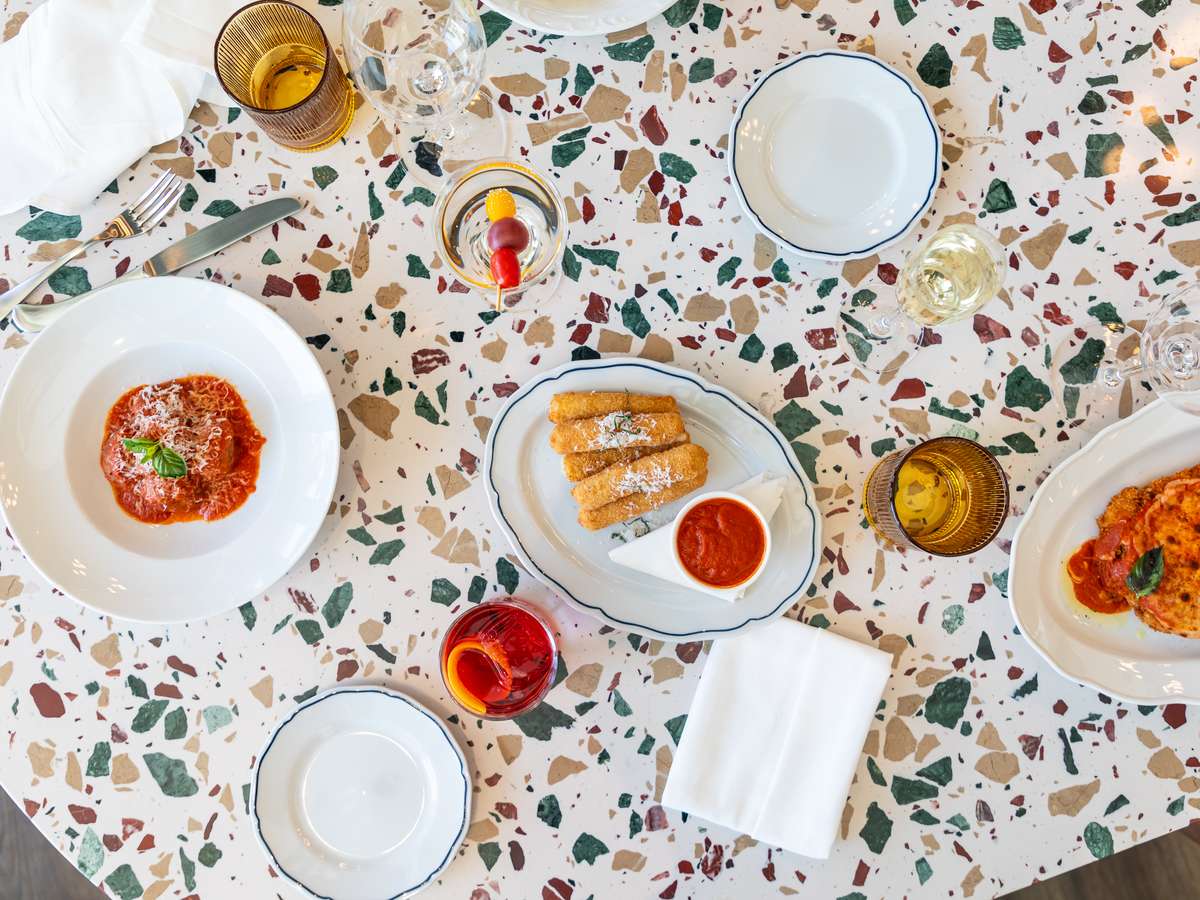 Welcome to Rollati Ristorante!
Welcome to Rollati Ristorante!
Our team is excited to announce that Rollati Ristorante has officially opened its doors! Whether you're a Bay Area local or visiting from out of town, we're ready to welcome you with open arms. Here's everything you might need to know about Rollati before stopping in to give us a try:
About Our Menu:
Nestled in the heart of downtown San Jose at the Miro Apartment Complex across from City Hall, Rollati Ristorante embodies the essence of a contemporary Italian-American eatery.
Our menu serves as a heartfelt homage to the rich tapestry of Italian-American culinary traditions, weaving together the beloved flavors of Italy's diverse regions with the creative evolution that has taken place right here in American kitchens. You'll encounter cherished classics, like our Chicken di Parma and "Thousand" Layer Lasagna, alongside more innovative dishes that draw inspiration from the seasonal ingredients we source from local Bay Area farmers and fishermen. Central to our culinary offerings is house-made pasta, crafted in our kitchen at our very own pasta-making station (you can see it from a window inside our lounge area, next to the bar!). This artisanal pasta forms the core of our menu, with dishes like Linguini Alle Vongole and Rigatoni Alla Vodka. Our menu is further complemented by steaks (and more) from the grill, house specialties like Pork Saltimbocca and Rabbit Agrodolce, a variety of pizzas and light "Antipasti", and a delightful array of seasonal produce.
To elevate your dining experience further, our beverage program boasts a carefully curated selection of Italian and Californian wines, thoughtfully chosen by our Wine and Spirits Director, Serena Harkey, and Bar Manager, Madeleine Ferguson, to harmonize with the flavors of our Italian-inspired cuisine. Our bar also serves up timeless Italian cocktails, aperitifs, and digestifs, all in the spirit of enhancing your meal. We highly recommend trying our seasonal Heirloom Martini and Blood Orange Garibaldi as we transition from summer into fall together!
About Our Space:
Step inside Rollati, and you'll find a welcoming space that seamlessly combines modernity and a touch of nostalgia. Our sleek-yet-soulful ambiance exudes a warm, retro charm. Vintage black and white photographs pay homage to Italian nonni and the old world, while our spacious layout infuses vibrancy and vitality, complemented by intimate seating options. A rich combination of colors, materials, and ambient lighting are here to help create an inviting and comfortable atmosphere for you and your guests.
Joining us for a large celebration or a business lunch or dinner? We can't wait to host you! Rollati is proud to offer a number of private room configurations to accommodate parties of every size. Treat your guests to an Italian day or night to remember by contacting Alejandra Maldonado (408-461-5591, amaldonado@rollatiristorante.com) to set up a personalized private dining experience.
Now Offering Grab-and-Go:
We are also proud to offer an extensive provisions market. Here in the front of the restaurant, you have the opportunity to purchase freshly-prepared culinary delights perfect for a lunch or dinner on-the-go. You'll also find premium dried pasta, house-made sauces, and classic Italian pantry staples to recreate the magic of Rollati in the comfort of your own kitchen.
Book a Table Reservation Today:
Rollati is currently open for dinner service seven days a week, beginning at 5 pm. We also serve lunch and Happy Hour every Monday-Friday, and will be introducing weekend brunch very soon! Please stay tuned for more information by becoming a Rollati VIP and joining our email list. In the meantime, we'd love to serve you up a delicious lunch or dinner to remember –
reserve your table in advance here.
Ciao!